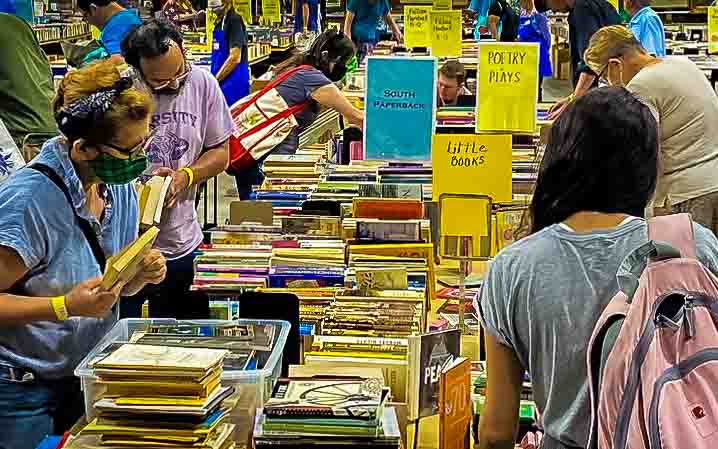 *** Yes, we'll be back in 2024 in the beginning of June. Check back here for details. The information below refers to our 2023 sale.***
Our big 70th! annual Symphony Book Fair sale at the UNO Arena Book Fair is back in the spacious UNO Arena!
Friday, June 2 through Sunday June 4, 2023
at the University of New Orleans Lakefront Arena
6801 Franklin Ave
New Orleans, LA 70122
(same location as last time)
Plenty of Free parking – enter from Franklin Avenue
Enter the sale under Ramp 1 (which faces Franklin Ave)
Hours:
Friday 9am-8pm
Admission for best selection on first day only – $15 from 9am-3pm only, free admission after 3pm
Saturday 9am-8pm, free admission
Sunday 9am-4pm, free admission
---
All items budget priced. Many categories of books, including children's and young adult. Even rare items are priced at "wholesale" level prices.
---
Books – Fiction & Nonfiction in 50 categories
Music – Sheet music and recordings (LPs, CDs)
DVD's and Audio Books
Art – both posters and original works of art (see below for more details)
A special children's sale will be on Sunday from 11 to 2 when a child, accompanied by an adult, can decorate a white bag and fill it with children's books for $5!
Please come for bargains and to help support our wonderful Louisiana Philharmonic Orchestra!
Credit cards accepted for purchases as well as cash.
---
A sampling of special items on the "Fabulous Finds" table:
101 Beverages – book of mixed drink recipes from 1906
A Confederacy of Dunces by John Kennedy Toole, 1st edition
George Cable's The Creoles of Louisiana, 1st ed
New Orleans and Its Living Past, Clarence John Laughlin photos, 1st ed signed
Vintage Looney Tunes Chess Set
Set of 1st 8 New Orleans Architecture series books, some autographed
---
An Abundance of Artwork – Paintings, Prints, Posters and Fabulous Frames!
Including:
1989 Jazz Fest Poster
1990 Zulu Poster
Dr. Bob Folk Art
Orpheus Posters signed by Anne Rice and Harry Connick, Jr.
Jamie Hayes' Mardi Gras in New Orleans 1996
Jamie Hayes' Mardi Gras in Soulard 1997
Vintage C. Bennette Moore Photo
Al Hirschfeld Signature Series (Carol Channing, Bob Hope, Jack Lemon)
Asian Paintings on Fabric
Carol Jablonsky Lithograph

A Sampling of the Many Artists Represented:
Peter Briant
Phillip Sage
George Dureau
C. Ryan, mixed media cubist
James Russell
Luis Cruz Azaceta
C. Reinicke
Clay McGaughy
John Akers
Le Ba Dang
Harriette Prevate
Richard Artschwager
Richard Thomas
Melissa Meyer
Johnny Donnels
Hugh Ricks
Lagniappe:
Vintage Mardi Gras Krewe Pins/Favors
Vintage Jewelry
Vintage Pushback Pin Buttons and Lapel Pins
Christmas ornaments including Radko