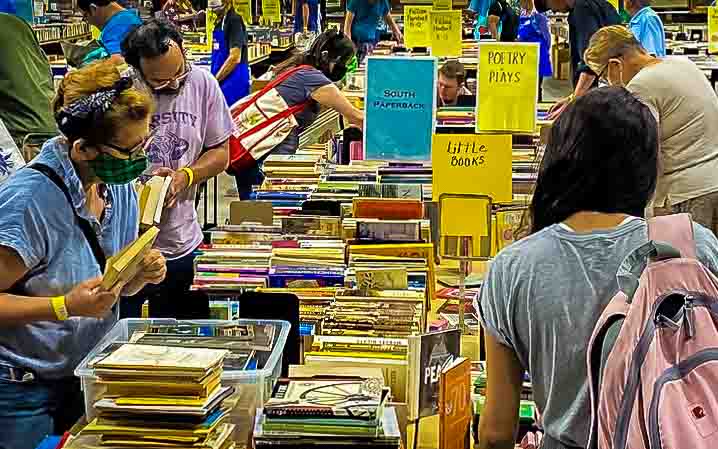 Our big annual Symphony Book Fair sale at the UNO Arena Book Fair is back in the spacious UNO Arena!
Friday, June 2 through Sunday June 4, 2023
at the University of New Orleans Lakefront Arena
6801 Franklin Ave
New Orleans, LA 70122
(same location as last time)
Plenty of Free parking – enter from Franklin Avenue
Enter the sale under Ramp 1 (which faces Franklin Ave)
Hours:
Friday 9am-8pm
Admission for best selection on first day only – $15 from 9am-3pm only, free admission after 3pm
Saturday 9am-8pm, free admission
Sunday 9am-4pm, free admission
---
All items budget priced. Many categories of books, including children's and young adult. Even rare items are priced at "wholesale" level prices.
---
Books – Fiction & Nonfiction in 50 categories
Music – Sheet music and recordings (LPs, CDs)
DVD's and Audio Books
Art – both posters and original works of art
A special children's sale will be on Sunday from 11 to 2 when a child, accompanied by an adult, can decorate a white bag and fill it with children's books for $5!
Please come for bargains and to help support our wonderful Louisiana Philharmonic Orchestra!
Credit cards accepted for purchases.