This event is over, but we have a photo of Ms. Bubbles with Angela Hilll.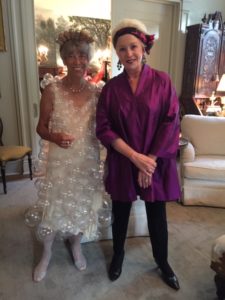 See you next year!
Tuesday, October 9, 2018
at the home of Mary Matalin and James Carville
1711 Palmer Avenue
New Orleans, Louisiana
Baubles & Bubbly for Beethoven benefits the Louisiana Philharmonic Orchestra.  An elegant evening featuring ready-to-purchase designer accessories from the Encore Shop.
---
Many thanks to our sponsors and committee members:
VIrtuoso Sponsors
Darleen Carlisle
Marilyn Dittmann
Mr. & Mrs. Lyle W. Ferguson
Anne Gauthier
Carol & John Hall
Pat & Gregory Kahn
Paul J. Leaman, Jr.
Charlotte & Bob Lewis
Sally E. Richards
Ileana Suquet
Margaret Soltis
Mr. & Mrs Hugh Straub
Committee
Event Chairman Carol Hall
LPO Volunteers President Charlotte Lewis
Encore Shop Chairman Melissa Gordon
Encore Shop Manager Jennifer Fonseca
Sponsorship Chairman Marilyn DIttmann
Boutique Chairman Carolyn Landwerlin
Decorations Chairman Nancy Fridge
Food Chairman Diane Butler
Publicity Chairman Jean RIce
Reservations Chairman Kathleen Davenport